Eco-Friendly Vehicles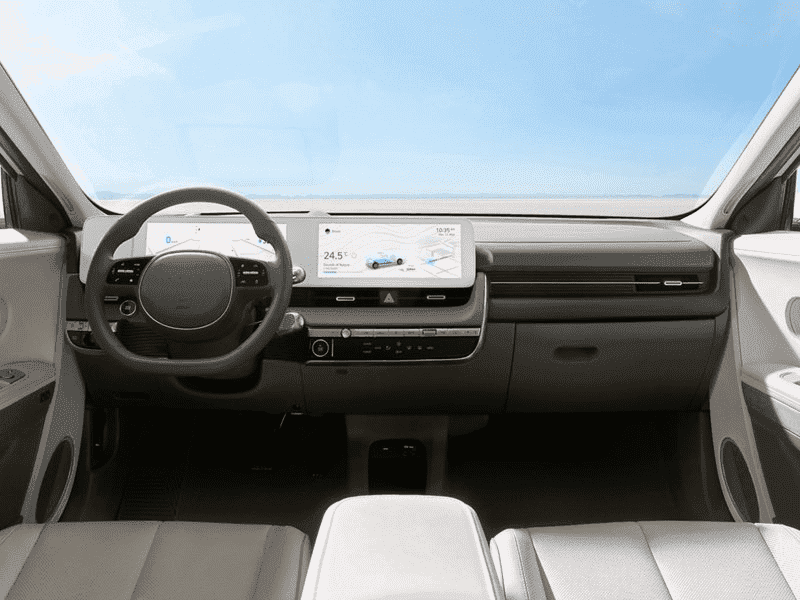 Hyundai offers the widest range of eco-friendly vehicles, perfect for those shoppers for cars with the best gas mileage. While many carmakers now offer all-electric and plug-in hybrid or PHEV models, Hyundai continues to push the envelope to deliver innovative, Earth-friendly vehicles.
There is a lot to absorb when you are considering the switch to an eco-conscious car or SUV and team at Woodhouse Hyundai of Omaha is here to help you navigate this exciting transition. Visit our Omaha car dealership to learn more and find the best Hyundai for your lifestyle.
All-Electric
All-electric vehicles do not use any gasoline to power the vehicle. For cars like the Hyundai Ioniq 5 or Hyundai Kona Electric, a rechargeable battery is attached to an electric motor. Energy comes from charging the battery, either in a public charging station or via an at-home system.
These models run on clean energy and do not produce any harmful emissions. All-electric vehicles may have a slightly higher price tag than others on this list, due to the rare metals used in their batteries. However, cost savings stack up both with available rebates and incentives and by avoiding prices at the pump.
Hybrid
The first eco-friendly vehicles on the market, hybrids provide an affordable, easy transition to this new generation of vehicles. Cars like the Hyundai Elantra Hybrid or SUV options like the Hyundai Tucson Hybrid blend traditional gasoline power and electric energy.
Hybrids rely on electric power from a much smaller battery than an all-electric car. This electricity powers things like the air conditioning to promote more fuel efficiency overall. 
Plug-In Hybrid
The Hyundai Ioniq 5 and Hyundai Santa Fe provide two PHEV, or plug-in hybrid options. These new Hyundai cars are equipped with a larger battery that delivers up to 30 miles of all-electric range for the Hyundai Santa Fe plug-in hybrid vehicle and 29 miles of all-electric range in the Hyundai Ioniq 5 plug-in hybrid.
Fuel Cell
Fuel cell vehicles are also manufactured by Hyundai. These cars, like the Hyundai NEXO Fuel Cell, are hydrogen powered. This means these cars only emit water during their 380 miles of total range. Their sale is currently limited to California in the US, but that may change in the coming years.
Ready to learn more about Hyundai's trendsetting line-up? Visit Woodhouse Hyundai to take one of our eco-friendly vehicles for a test drive. Learn about our exclusive Omaha Hyundai lease deals as well as available rebates and incentives when you buy a new Hyundai.