How Often You Need an Oil Change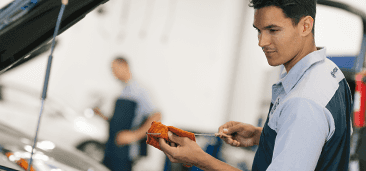 You could go to a corner garage for your next oil change in Omaha. Or, you could bring your beloved Hyundai model to the experts here at Woodhouse Hyundai of Omaha. Getting your oil changed, and keeping up with your oil status is one of the most crucial aspects of vehicle ownership. And here, we want to help you get the most out of your car for years to come. 
Why an oil change is necessary
It's really pretty simple. Your car and its engine have many moving parts. These parts rub against one another and create friction, which generates heat. Oil is used to lubricate all the moving parts so that they stay intact and don't overheat. However, over time, your engine oil breaks down and becomes less effective and more dangerous for your vehicle. 
How often do I really need an oil change?
It's a question that's been asked since we've had cars in the first place. However, most people agree that you should change your oil about every 5,000 to 7,000 miles. That said, there are some caveats. Your oil change timeline will vary based on your driving habits, the condition your vehicle is kept in, and even based on what kind of oil your car uses. 
Luckily, you don't have to worry about any of that when you come to us here at your Omaha Hyundai dealership. That's because we've got a state-of-the-art service center. We also employ highly-trained Hyundai technicians, so you'll never worry about the qualifications of the person working on your car. 
When it comes to oil changes, it doesn't matter if you're driving a new 2020 Hyundai Santa Fe or not; all vehicles need clean oil. So, please don't skimp on your oil changes, visit us for your next one.