Hyundai Financing Support for Used Cars in Omaha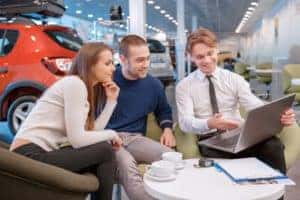 There are many benefits to purchasing used cars in Omaha, and Woodhouse Hyundai of Omaha is here to help you every step of the way. Not only will we put you behind the wheel of a new or pre-owned Hyundai vehicle that you're sure to love, but we're also sharing all the information you need to know about financing, taxes, and fees on the day you take your car home.
Day-Of Taxes and Fees
One great reason to purchase a pre-owned car is that you'll save big on the down payment, monthly costs, in-between costs, and more.
That said, there are a few day-of taxes and fees that you'll want to keep in mind when planning your budget, including some of the following:
Sales Tax: Sales tax can really add up, and it's one of the reasons so many drivers choose to trade in their vehicle. When you trade-in, your sales tax will be calculated on the difference between the two cars, which can mean big savings.
Dealer Fees: The dealer wants to make the car purchasing process as smooth and easy for you as possible. That's why they handle the paperwork and processes like inspections and registration. These tasks are why you may notice dealer fees the day you purchase your car.
Title and Registration: Thanks to the dealer, you won't have to worry about getting your vehicle registered, but you still want to account for the cost of title and registration. In most cases, they won't be very much, but it's helpful to keep these smaller costs in mind when planning your budget.
For more information on Hyundai financing and to begin test-driving pre-owned Hyundai vehicles, make Woodhouse Hyundai of Omaha the dealership you turn to first. Schedule your next test drive today.