Looking for a Hyundai SUV Dealer? Come to Woodhouse Hyundai of Omaha
Are you looking for a Hyundai SUV dealer near you? At Woodhouse Hyundai of Omaha, we're proud to offer a great selection of SUVs to suit any lifestyle. Whether you're part of a growing family and need extra room, or you love adventure and want something rugged, we think you'll find your perfect match.
We're particularly excited to tell customers about the Hyundai Santa Fe, Hyundai Tucson, and Hyundai Kona.
Hyundai Santa Fe Details
The Hyundai Santa Fe is a compact SUV that's perfect for folks who want a balance of power and efficiency. It comes standard with a 2.5-liter engine that gets 191 horsepower and 181 lb-ft of torque. This muscle allows the SUV to tow up to 2,000 pounds of cargo.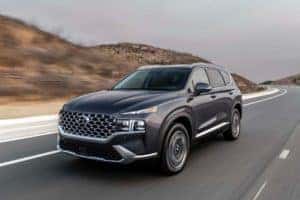 The Hyundai Santa Fe is also the largest of this trio of SUVs, offering 72.1 cubic feet of cargo space and 111.5 cubic feet of passenger volume. This means your entire family will have ample legroom and headroom so they're as comfortable as possible.
Hyundai Tucson Detail
If you're looking for a compact SUV that's even more efficient and easy to maneuver, check out the Hyundai Tucson. This model features a 2.0-liter, 161-horsepower engine, which is plenty of get-up-and-go for the average commuter.
The Hyundai Tucson still gives you ample interior volume, as well: 61.9 cubic feet for cargo and 102.2 cubic feet for passengers. You'll get exceptional fuel economy with this compact SUV, too, so you're sure to save at the gas pump.
Hyundai Kona Details
For maximum efficiency and agility, we recommend the Hyundai Kona. This subcompact SUV is made for city dwellers who want something that's easy to drive through congested traffic and narrow streets.
The interior isn't as spacious as the previous two models, but it's still perfect for individuals and adventurous couples. Speaking of adventure, opt for available AWD if you want extra traction and precision when you take the road less traveled.
We encourage you to visit Woodhouse Hyundai of Omaha to see these SUVs in person. We know that you'll be impressed with our inventory, as well as our team's exceptional customer service. Come see why our customers consider us such a reliable Hyundai SUV dealer.