Ensure Safe Driving With Hyundai Car Care
When it comes to vehicle wear and tear, many factors come into play. From normal daily driving to balmy unbearable winters, the elements play a central role in causing or accelerating wear and tear. At Woodhouse Hyundai of Omaha, we believe servicing your vehicle makes a difference in your car's value, your budget, and your safety. See our Omaha Hyundai dealership, where we have Hyundai models for any type of driver and a Hyundai service center well-versed in keeping your Hyundai Kona in excellent shape.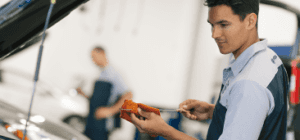 Performing all routine maintenance and services is an easy way to dodge costly vehicle repairs and replacements. Countless drivers neglect their Hyundai model, leading to irreparable harm as the years go by. The best way to keep your Hyundai Sonata running for years is to have a Hyundai service expert perform an inspection during your oil change. Car oil helps lubricate your vehicle's parts, eliminating sludge and debris, and protects your engine, saving you from an unforeseen breakdown. Tire rotations are another service that can maximize your road safety and keep your tires from wearing rapidly. Typically, when you have these services completed, you'll also get your car's fluids topped off, which plays a significant part in preserving your car's operations, minimizing car malfunctions, and saving you money.
Our Service Center
Our Hyundai service center near Council Bluffs offers a car care express service, getting you in and out of our shop. Our Omaha Hyundai dealers know you have places to be, which is why we offer speedy service without sacrificing quality. Factory-trained Hyundai professionals run our service shop and stay informed about today's leading innovations and technologies, ensuring you're treated to efficient practices and advanced components. Plus, when you come to us to replace your Hyundai parts, we swap them out with genuine original parts to protect your investment. These components were designed and engineered with the highest standards and crafted to keep your Hyundai Tucson finely tuned.
When you finance a Hyundai Elantra, be sure you protect your investment. When canvassing the net for a "Hyundai service center near me", find us on your result page and bring your automobile to us. We'll go that extra step in personalizing your experience, addressing your questions, and providing you with current Hyundai service specials.