Signs You Need to Replace Your Hyundai Parts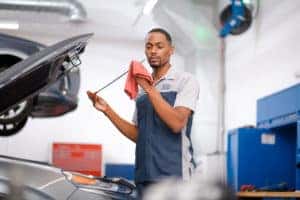 Hyundai parts of designed to last, but it's important to know how to recognize the signs of wear or damage that might indicate they need to be replaced. Woodhouse Hyundai of Omaha is here to help. We believe that your vehicle should stay in the family for many years to come, and routine car care service and part upgrades are a great place to start.
Signs Your Car Parts Need to Be Replaced
Every car part is going to be different, but there are a few obvious indications that your car parts need replacing or upgrading, including some of the following:
Your Check Engine Light Comes On: There are many reasons a check engine light may come on but damaged or worn parts and low fluid levels may all be behind it.
Your Mileage Drops: If you notice that the efficiency of your vehicle has dramatically dropped, that may be a good indication that your vehicle needs new fluids or parts.
You Hear Strange Sounds: If you hear unusual sounds, like grinding, squealing, or scratching that's a good indication that something is wrong and your vehicle needs care right away. Most often, these sounds mean that you need new brake pads.
You Smell Something Funny: If certain parts suffer damage or wear, they may emit unusual scents, like sulfur or rotten eggs. Pay attention to any strange smells that may mean your battery is corroded and needs to be replaced.
Get the parts you need and the information that will help you to keep your vehicle running right, all here at Woodhouse Hyundai of Omaha. We carry a wide range of vehicles, offer personalized financing options, and provide service and parts. Schedule your next service appointment today.