Testing the 2021 Hyundai Accent
The new Hyundai Accent is a showcase here in our Hyundai dealership in Omaha, NE. Our staff at Woodhouse Hyundai of Omaha are thrilled to give you a test drive of this new Hyundai brand car, and will work to give you the best deal possible.
2021 Hyundai Accent Model Details
The 2021 Hyundai Accent brings a lot to the table, starting off with plenty of configuration options. When you visit our showroom, you'll get the option to choose between the SE, SEL, and the Limited trim models, each of which brings something unique to the table
.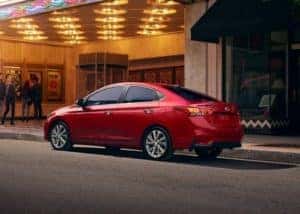 The base SE model is pretty powerful right at the start, using a 1.6-liter engine to funnel power. The output from this baseline engine is definitely impressive, offering up 120 horsepower and 113 lb-ft worth of torque.
A CVT transmission shifts power seamlessly making for a zippy driving experience, this is especially assisted by the front-wheel drivetrain.
2021 Hyundai Accent Special Features
Special Features:

-5.0-inch infotainment screen

-Bluetooth® connectivity

-Air conditioning

-Automatic Emergency Braking
The new Hyundai Accent is a comfortable and tech-loaded sedan offering up plenty to enjoy no matter what model you decide to buy.
For instance, base models come packed with a 5.0-inch infotainment screen that comes with Bluetooth® connectivity and dual USB ports. A powerful air conditioning system is also standard giving drivers and passengers top-tier comfort.
Higher trims add even more like a bigger infotainment touchscreen with Apple CarPlay™ and Android Auto™ compatibility. No matter which model you decide to buy, you'll find standard safety features like automatic emergency breaking providing you some serious protection when out on the road.
How Our Hyundai Dealers Can Help
If you want to check out this new Hyundai Accent, our Hyundai dealers near La Vista, NE are happy to show you just what this model can do on the road. At Woodhouse Hyundai of Omaha we'll go that extra mile to help you find the car that satisfies your every automotive need. Stop by today!