The 2020 Hyundai Nexo at Woodhouse Hyundai of Omaha
The Hyundai brand is always innovating. Here at Woodhouse Hyundai of Omaha, we've seen new models and new features show up year after year, and we're always impressed with what Hyundai engineers and designers have come up with. One new Hyundai vehicle that really stands out is the 2020 Hyundai Nexo. This new SUV is only available in California, for now, but we want to highlight this special model to show just how committed the Hyundai brand is to leading in the green car segment.
2020 Hyundai Nexo Details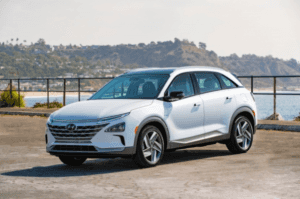 The 2020 Hyundai Nexo is powered by a hydrogen fuel cell. That means that the only waste it creates is water vapor. It's the next big step for green cars. It has a range of 380 miles and can quickly "recharge" at filling stations to get back to that range in just a few minutes. There are also two trim levels to choose from, the Blue and the Limited, and both offer a number of high-end features and useful technologies. This new Hyundai car is also stylish and aerodynamic. It's got the best possible range and it looks like a premium car. If you thought green cars were small or boring, the 2020 Hyundai Nexo proves you wrong. While it won't arrive at our dealership anytime soon, one of our Omaha Hyundai dealers can help you find a similarly impressive green Hyundai car, one that's paved the way for the innovative 2020 Hyundai Nexo.
2020 Hyundai Nexo Safety and Special Features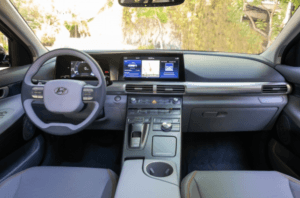 Like the other models found at our Hyundai dealership serving Bellevue, NE, the 2020 Hyundai Nexo offers plenty of useful features, including an all new fully autonomous one! The Remote Smart Parking Assist feature allows the 2020 Hyundai Nexo to park itself. Just press the smart key button and watch this Hyundai vehicle drive itself. This fuel cell SUV also offers tech like Apple CarPlay™, Android Auto™, and a 12.3-inch touchscreen with navigation. Safety features include Lane Follow Assist and Blind-Spot Collision Warning. You even get luxury features like ventilated seats on the Limited model. This stylish green SUV is the complete package.
Buying a 2020 Hyundai Nexo
So visit our Hyundai dealership and see how easy it is to find the green car or capable SUV that you've been searching for. Whether you have questions about the latest features or the Hyundai financing process, our friendly and knowledgeable dealers are ready to help out. We hope to see you soon!